PRODUCT CATEGORIES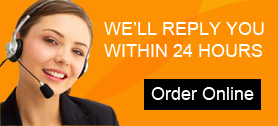 Overview
Vibrating Feeder Introduction
The vibrating feeder also can be called vibratory feeder,vibrating grizzly feeder and vibration feeder, can evenly and continuously feed bulk and granular materials into receiving device, so it's important equipment in sand production line. The vibrating grizzly feeder or feed grizzly can also feed materials to belt conveyors, bucket elevator, screening equipment, crushing equipment and grinding machines. The vibrating feeder is also used for automatic blending, quantitative packing and automation in the automatic control production.
Vibrating Feeder Features
The exciting force of the vibrating feeder can be changed and adjusted easily and reliably at any time; and the vibrating motor is the exciting source which features little noise, low power consumption, good adjustment and no material clashing phenomenon. The vibratory feeder is with simple structure, reliable operation, easy installation and arrangement, light weight, small size and easy to maintain.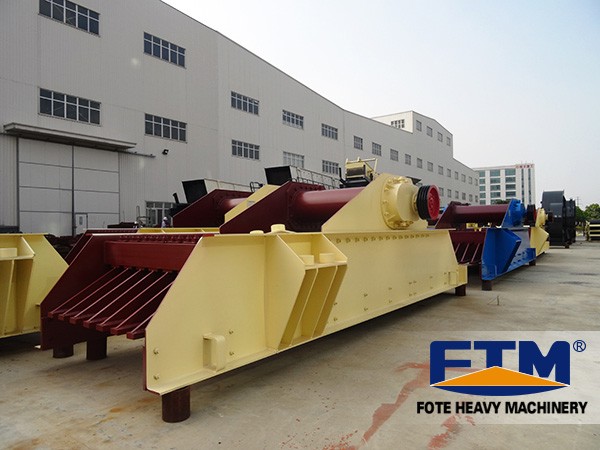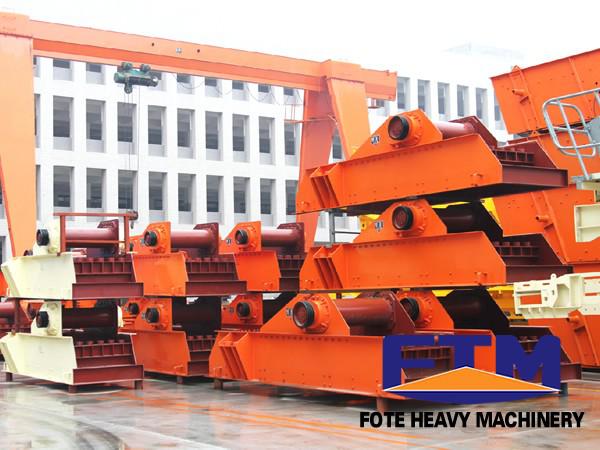 Vibrating Feeder Working Principle
In the production flow, feeder machine able to evenly and continuously send the massive and granular materials from the storage bunker to the material receiving device at regular time. In the stone and sand production line, it is able to continuously and evenly feed materials to the crushing machines and coarsely screen the materials.
Parameter
Model
Max.
Feeding
Size
(mm)
Processing
Capacity
(t/h)
Motor
Power
(kw)
Obliquity
of material
trough
(°)
Trough
size
(mm)
Dimensions
(L×W×H)(mm)
GZD-650×2300
300
80-100
1.2×2
10-20
650×2300
2300×1360×780
GZD-750×2500
350
100-130
1.5×2
10-20
750×2500
2500×1460×780
GZD-850×3000
400
120-150
3×2
10-20
850×3000
3110×1800×1600
GZD-1000×3600
500
150-200
3.7×2
10-20
1000×3600
3850×1950×1630
GZD-1100×3600
580
240-300
3.7×2
10-20
1100×3600
3600×2050×1660
GZD-1300×3600
650
450-600
7.5×2
10-20
1300×3600
3900×2350×1750
GZD-1500×3600
1050
450-1000
7.5×2
10-20
1500×3600
3900×2000×1750
GZD-2000×3600
1200
550-1000
10×2
10-20
2000×3600
3600×2000×1750
GZD-2500×5000
1500
650-1500
18×2
10-20
2500×5000
5000×2500×1800
ZSW-380×95
500
100-180
11
0-10
3800×960
3920×1640×1320
ZSW-490×110
630
150-400
15
0-10
4900×1100
4980×1830×1320
ZSW-490×130
750
400-700
22
0-10
4900×1300
4980×2580×2083
ZSW-600×130
750
400-700
22
0-10
6000×1300
6082×2580×2083
ZSW-600×150
800
500-900
30
0-10
6000×1300
6086×2662×1912
ZSW-600×180
900
700-1300
45
0-10
6000×1500
6310×3262×2230
ZSW-600×200
1200
800-1500
55
0-10
6000×2000
6310×3462×2230