PRODUCT CATEGORIES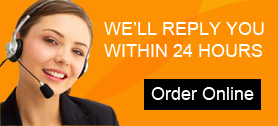 Overview
Slag Dryer Introduction
Slag dryer, also known as granulating slag dryer,steel slag dryer,gold ores dryer and lead powder dryer, is mainly made up by rotary cylinder, wind equipment, transmission equipment, hot air equipment, deceleration machine, supporting devices, high-speed scattered equipment, feed plate, the cleaning device, transmission device, sealing device, etc.
The slag dryer has advantages of reasonable design, perfect workmanship, stable performance, advanced technology, high output, low energy consumption, high mechanization degree, etc.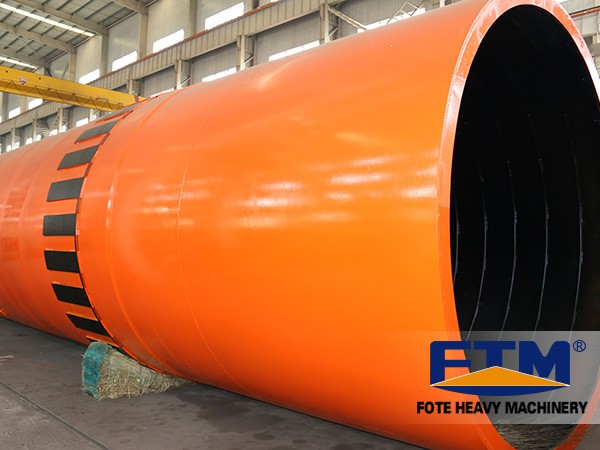 Slag, limestone, clay, sand, quartz sand, slime, sludge and other materials with high moisture content can be dried by slag dryer.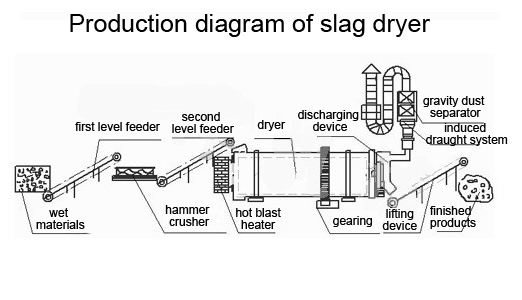 Slag Dryer Features
1. Slag dryer can handle a large quantify and has strong anti- overload capability, high thermal efficiency and low drying cost.
2. Fluorite ore dryer adopts downstream drying method, the material and heat flow get into the drying machine from the same side. The temperature of the dryer exit is low, and it has high heat efficiency.
3. Gold ores dryer uses a new combined feed device which overcomes the "wind tunnel" phenomenon of the traditional dryer.
4. Lead powder dryer can satisfy the size and moisture requirements of different customers after the drying of slag materials.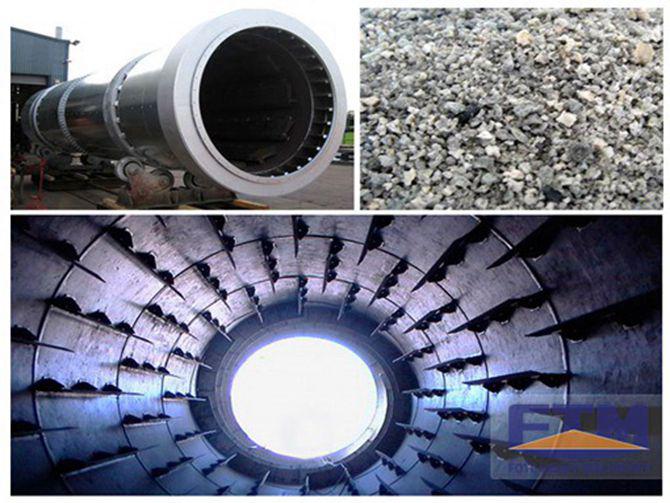 Slag Dryer Working Principle
The slag is sent into the hopper by the belt conveyor or bucket elevator and sent into feed end through feeding pipe of feeder hopper. The dryer cylinder is a rotating cylinder with slight incline to the horizontal line. The materials are sent from the higher end and the heat-carrying agents are sent from the lower end to be countercurrent contact with the materials. Some heat-carrying agents and materials flow altogether into the end of the barrel with the gravity effect as the rotation of the cylinder. In the process of moving forwardness in the barrel, the wet materials are directly or indirectly gained the heat of the heat-carrying agent and be dried, then the discharge end discharges finished products through belt conveyor or screw conveyor.
Parameter
Spec./m
(Dia.×Length)

Shell Cubage
(m³)

Capacity
(t/h)

Installation
Obliquity
(%)

Highest Inlet
Air Temperature
(℃)

Main Motor
(kw)

Weight
(t)

Φ1.2×8.0

9.0

1.9~2.4

3~5

700~800

7.5

9

Φ1.2×10

11.3

2.4~3.0

3~5

700~800

7.5

11

Φ1.5×12

21.2

4.5~5.7

3~5

700~800

15

18.5

Φ1.5×14

24.7

5.3~6.6

3~5

700~800

15

19.7

Φ1.5×15

26.5

5.7~7.1

3~5

700~800

15

20.5

Φ1.8×12

30.5

6.5~8.1

3~5

700~800

18.5

21.5

Φ1.8×14

35.6

7.6~9.5

3~5

700~800

18.5

23

Φ2.2×12

45.6

9.7~12.2

3~5

700~800

22

33.5

Φ2.2×14

53.2

11.4~14.2

3~5

700~800

22

36

Φ2.2×16

60.8

13.0~16.2

3~5

700~800

22

38

Φ2.4×14

63.3

13.5~16.9

3~5


700~800

37

45

Φ2.4×18

81.4

17.4~21.7

3~5

700~800

37

49

Φ2.4×20

90.4

19.3~24.1

3~5

700~800

45

54

Φ2.4×22

99.5

21.2~26.5

3~5

700~800

45

58

Φ2.6×24

127.4

27.2~34.0

3~5

700~800

55

73

Φ3.0×20

141.3

30.1~37.7

3~5

700~800

75

85

Φ3.0×25

176.6

37.7~47.1

3~5

700~800

75

95

Φ3.2×25

201

42.9~53.6

3~5

700~800

90

110

Φ3.6×28

285

60.8~76.0

3~5

700~800

160

135
Technical parameters of indirect heat dryer:
Shell
diameter
×shell
Length
Items
Inside
diameter
of outer
shell
(mm)
Inside
diameter
of inner
shell
(mm)
Shell
Length
(m)
Shell
cubage
(m³)
Shell
obliquity
Lifting
blade
form
Highest
inlet air
temperature
(℃)
Dimensions
(m)
Φ1.5×15m
1500
500
15
20.27
3-5%
Lifting form
850
16.2×2.7×2.7
Φ1.5×17m
17
22.97
18.2×2.7×2.7
Φ1.5×19m
19
25.68
20.0×2.9×2.9
Φ1.8×21m
1800
650
21
35.91
3-5%
Lifting form
850
22.5×2.7×2.7
Φ1.8×23m
23
39.33
24.5×2.9×2.9
Φ1.8×25m
25
42.75
26.5×2.9×2.9
Φ2.2×21m
2200
800
21
58.10
3-5%
Lifting form
850
----
Φ2.2×23m
23
63.61
Φ2.2×25m
25
69.15