PRODUCT CATEGORIES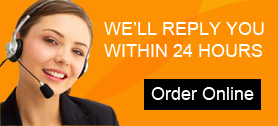 Overview
Tire Type Impact Mobile Screening Station Introduction
Tire type impact mobile screening station (other names: tyre mobile crusher, mobile plant crusher stone, mobile construction station, mobile stone crushing machine, mobile mining plant) is one of main mobile crushing stations of Fote, equipped with high-performance impact crusher (or sand maker) and vibrating screen, with advantages of high flexibility and adaptability, low material transportation expense, flexible combination, light weight, etc.
Tire Type Impact Mobile Screening Station Features
1. High-performance crusher;
2. Integration of vehicle motor and control box;
3. Equipped with jaw crusher, cone crusher, vertical shaft impact crusher, feeder and shaker;
4. integrated vehicle installation with belt conveyor, vibrating screen and crusher;
5. Vehicle installation support, efficient and convenient to station on crushing site;
6. Steering axle traction, easy to road transport.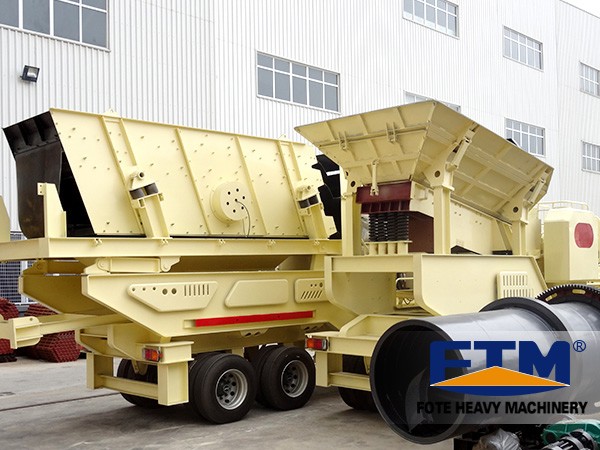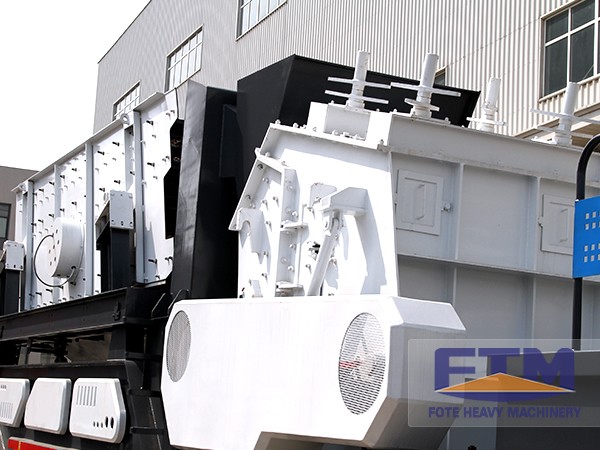 Tire Type Impact Mobile Screening Station Working Principle
Tire mobile crusher and other stations, are transmitted through diplomatic material, then the material into the impact of mobile crushing station, equipped with the device through the conduct of a cyclic process operations, ultimately crushing effect.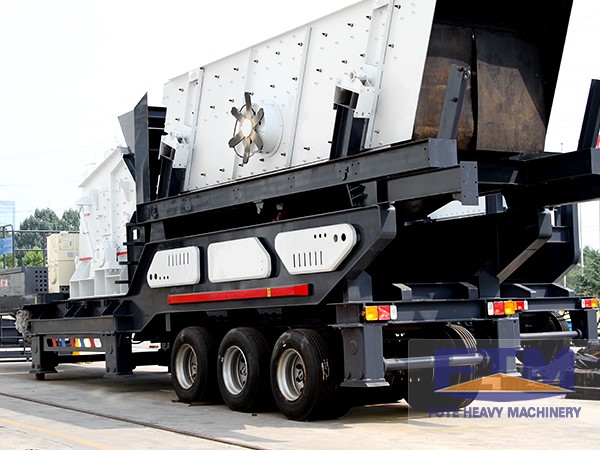 Parameter
| | | | | | |
| --- | --- | --- | --- | --- | --- |
| Model | FTM938E69 | FTM1149E710 | FTM1349E912 | FTM1349EW86 | FTM1349EW110 |
| Transportation Length (mm) | 12600 | 13500 | 15500 | 14600 | 15500 |
| Transportation Width (mm) | 2550 | 2550 | 2950 | 2550 | 2950 |
| Transportation Height (mm) | 3870 | 4500 | 4500 | 4500 | 4500 |
| Maximum Length(mm) | 12500 | 14000 | 14600 | 14600 | 15500 |
| Maximum Width (mm) | 2900 | 2950 | 3300 | 3300 | 3300 |
| Maximum Height (mm) | 4100 | 4900 | 5300 | 5300 | 5300 |
| Weight(t) | 39 | 57 | 83 | 65 | 92 |
| Tire Configuration | Dualaxial | Triaxial | Triaxial | Triaxial | Triaxial |
| Jaw Crusher | PE600×900 | PE750×1060 | PE900×1200 | PEW860 | PEW1100 |
| Maximum Feeding Size(mm) | 480 | 630 | 750 | 730 | 940 |
| Discharge Opening Size (mm) | 65-160 | 80-140 | 100-200 | 75-225 | 150-275 |
| Capacity(t/h) | 90-180 | 110-320 | 220-450 | 150-500 | 300-650 |
| Vibrating Feeder | ZSW380×95 | ZSW420×110 | ZSW490×130 | ZSW490×130 | ZSW490×130 |
| Main Belt Conveyor | B800×8.5M | B1000×9.5M | B1200×10.5M | B1200×9.5M | B1200×9.5M |
| Side-opening Belt conveyor(Optional) | B500×3M | B650×4.5M | B650×4.5M | B650×4M | B650×4M |
| Genset(Optional)(kw) | 200 | 250 | 270 | 320 | 400 |
| Iron Separator(Optional) | RCYD(C)-8 | RCYD(C)-10 | RCYD(C)-12 | RCYD(C)-12 | RCYD(C)-12 |