PRODUCT CATEGORIES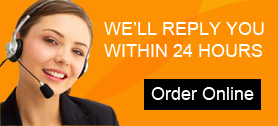 Overview
River Sand Dryer Introduction
The river sand dryer is mainly used for drying particle materials with certain humidity. Due to advantages of strong production capacity, wide application, small flow resistance, easy to operate, river sand drying machine is often used to drying sand, river sand, slag, cinders, quartz sand, etc.
The river sand dryer can be equipped with gas furnace, combustion chamber or supporting hoist, belt conveyor, quantitative feeder, cyclone dust collector according to users' requirements.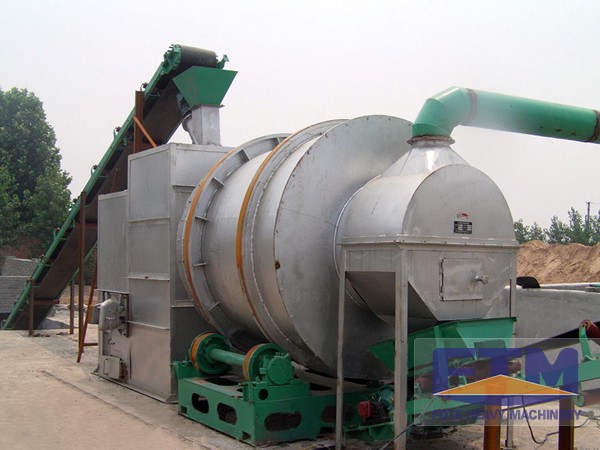 River Sand Dryer Features
1. Accessories of the river sand dryer are wear resistant, with high thermal efficiency.
2. River sand dryer machine is applicable for white coal, bituminous coal, fuel, coal, oil, gas, etc.
3. Construction investment of it is low, and it's easy to be installed.
4. River sand dryer is with no leakage phenomenon, which can completely solve the sealing problems.
5. Discharge temperature is not higher than 60 degrees, directly feeding without cooling shed is OK.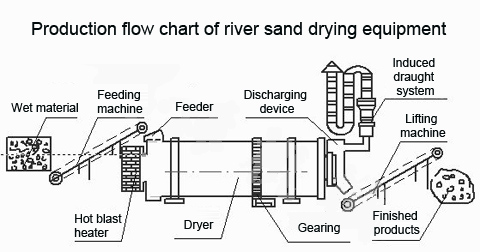 River Sand Dryer Working Principle
Sand will be fed into the hopper through belt conveyor and bucket elevator, and then be fed into the end hopper through feeding machine or pipes. The inclination of feeding pipe should be larger than natural inclination of materials, for sand smoothly entering into the dryer. Dryer drum is a slightly inclined rotating cylinder with horizontal lines. Materials are fed from the higher end, while heat medium enters from low-end, forming counter-current contact with materials. Heat medium flowing into the cylinder together with material is available. As the rotation of the cylinder, materials run to the end of the sand dryer under gravity. Wet material, in the course of the cylinder moving forward, directly or indirectly get heat from medium heat, for drying wet material, and then discharged through the spiral conveyor or belt conveyor installed at the end of discharging port. River sand drying machine or river sand dryer machine is equipped with lifting board on the cylinder wall, and the lifting board plays the role of lifting and falling down materials, increasing the contact surface between material and air flow, so as to improve the drying rate. Heat medium is generally divided into hot air, flue gas and others.
Parameter
Spec./m
(Dia.×Length)

Shell Cubage
(m³)

Capacity
(t/h)

Installation
Obliquity
(%)

Highest Inlet
Air Temperature
(℃)

Main Motor
(kw)

Weight
(t)

Φ1.2×8.0

9.0

1.9~2.4

3~5

700~800

7.5

9

Φ1.2×10

11.3

2.4~3.0

3~5

700~800

7.5

11

Φ1.5×12

21.2

4.5~5.7

3~5

700~800

15

18.5

Φ1.5×14

24.7

5.3~6.6

3~5

700~800

15

19.7

Φ1.5×15

26.5

5.7~7.1

3~5

700~800

15

20.5

Φ1.8×12

30.5

6.5~8.1

3~5

700~800

18.5

21.5

Φ1.8×14

35.6

7.6~9.5

3~5

700~800

18.5

23

Φ2.2×12

45.6

9.7~12.2

3~5

700~800

22

33.5

Φ2.2×14

53.2

11.4~14.2

3~5

700~800

22

36

Φ2.2×16

60.8

13.0~16.2

3~5

700~800

22

38

Φ2.4×14

63.3

13.5~16.9

3~5


700~800

37

45

Φ2.4×18

81.4

17.4~21.7

3~5

700~800

37

49

Φ2.4×20

90.4

19.3~24.1

3~5

700~800

45

54

Φ2.4×22

99.5

21.2~26.5

3~5

700~800

45

58

Φ2.6×24

127.4

27.2~34.0

3~5

700~800

55

73

Φ3.0×20

141.3

30.1~37.7

3~5

700~800

75

85

Φ3.0×25

176.6

37.7~47.1

3~5

700~800

75

95

Φ3.2×25

201

42.9~53.6

3~5

700~800

90

110

Φ3.6×28

285

60.8~76.0

3~5

700~800

160

135
Technical parameters of indirect heat dryer:
Shell
diameter
×shell
Length
Items
Inside
diameter
of outer
shell
(mm)
Inside
diameter
of inner
shell
(mm)
Shell
Length
(m)
Shell
cubage
(m³)
Shell
obliquity
Lifting
blade
form
Highest
inlet air
temperature
(℃)
Dimensions
(m)
Φ1.5×15m
1500
500
15
20.27
3-5%
Lifting form
850
16.2×2.7×2.7
Φ1.5×17m
17
22.97
18.2×2.7×2.7
Φ1.5×19m
19
25.68
20.0×2.9×2.9
Φ1.8×21m
1800
650
21
35.91
3-5%
Lifting form
850
22.5×2.7×2.7
Φ1.8×23m
23
39.33
24.5×2.9×2.9
Φ1.8×25m
25
42.75
26.5×2.9×2.9
Φ2.2×21m
2200
800
21
58.10
3-5%
Lifting form
850
----
Φ2.2×23m
23
63.61
Φ2.2×25m
25
69.15