PRODUCT CATEGORIES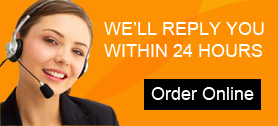 Overview
Raymond Mill Introduction
Raymond mill, also known as raymond grinder, raymond grinding mill and raymond pulverizer, is commonly used grinding equipment, mainly used for grinding barite, calcite, feldspar, talc, marble, limestone, dolomite, fluorite, lime, activated clay, activated carbon, bentonite, kaolin, cement, phosphate ore, gypsum, glass, insulation materials and other materials with Mohs hardness not more than 7 degree and humidity below 6% in mineral, chemical, construction and other industries. Final size of finished products can be adjusted within 60-325 meshes.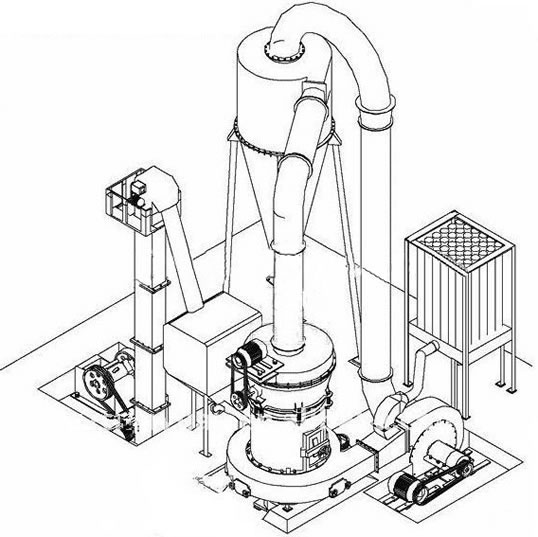 Raymond Mill Features
Raymond mill has advantages of well-structured, high efficiency, low energy consumption, small footprint, low capital investment and environmental pollution, etc.
Raymond Mill Working Principle
When the raymond mill works, the materials that need to be crushed are fed into the machine through the feeding hopper. The grinding roll of raymond grinder, raymond grinding mill or raymond pulverizer hangs on the main engine will rotate around the vertical axis and rotates around itself. Due to the centrifugal force produced in the rotating process, the grinding roll will swings outward and tightly press onto the grinding ring to make the relieving tool scoop up the materials and send them to the space between the grinding roll and the grinding ring, and the materials will be crushed due to the rolling and grinding of the grinding roll.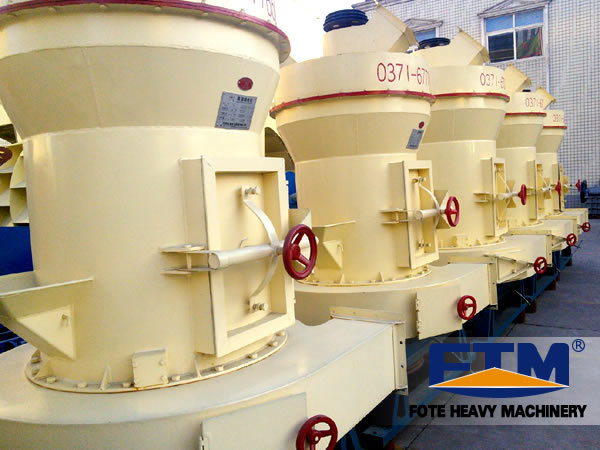 Parameter
| | | |
| --- | --- | --- |
| Model | 4525 | 4119 |
| Feeding Size(mm) | ≤30 | ≤25 |
| Output Size(mm) | 0.173-0.044 | 0.173-0.044 |
| Shift Output of Different Material Fineness(t) | 16-176 | 8-78 |
| Rotation Speed of Central Shaft(r/min) | 82 | 105 |
| Ring Diameter(mm) | 1770 | 1400 |
| Roller Diameter(mm) | 450 | 410 |
| Roller Height(mm) | 250 | 190 |
| Main Motor | Y315M-4-132 | Y280S-4-75 |
| Fan Motor | Y315M-4-132 | Y280S-4-75 |
| Analyzer Motor | YCT250-4A-18.5 | YCT200-4B-7.5 |