PRODUCT CATEGORIES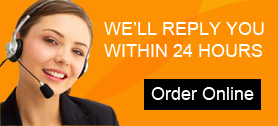 Overview
Powder Grinding Mill Introduction
Ring medium speed micro powder mill (also known as micro powder grinding, micro powder mill or powder machine) is named for its three ring, it is a fine and superfine powder processing equipment, mainly suitable for the super fine powder processing of non-explosive brittle materials with medium and low hardness, and Mohs hardness below 6 degree, such as calcite, chalk and other 100 kinds of materials, finished product granularity of fine powder can be adjusted between 325-2500 mesh (47-5 microns), the yield is up to 325 -2500 kg per hour.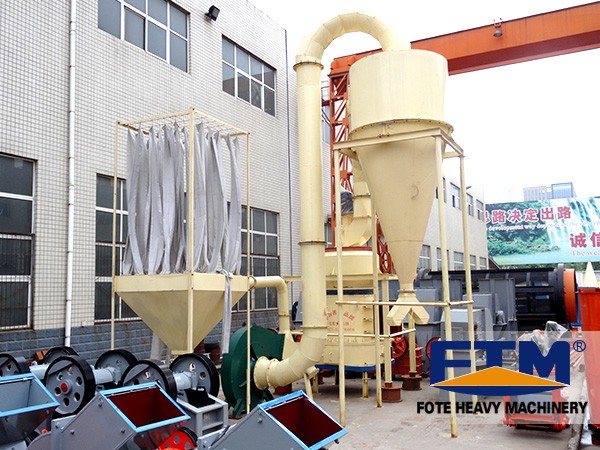 Finished product of powder grinding mill
Fote powder grinding mill can grind various materals to powders, including TALC, fluorite, limestone, barite, quartz and other materials. Here are the materials before being processed and after being processed: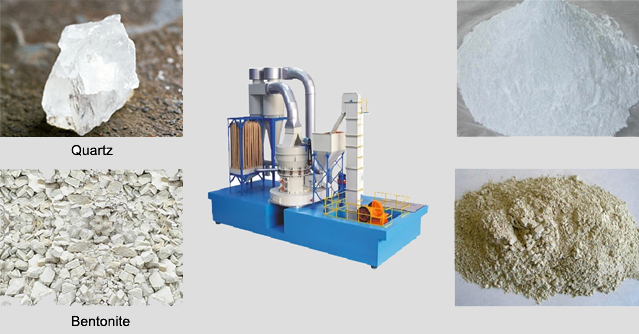 Powder Grinding Mill Features
High efficiency and energy saving
Under the condition of same finish fineness and motor power, its output is above one time higher than the airflow grinding, mixing mill and ball mill.
Long working life of quick-wear parts
Grinding roller and grinding ring are made of special material, which greatly improve the usage degree. Under the circumstance of same material fineness and finished product fineness, its working life is 2~5 times longer than that of impact crusher and turbine crusher.
High security and reliability
The bearing and sealing element are not easy to be worn, the screws are not easy to lose and the machine is not easy to be broken.
High product fineness
Product fineness can reach D97 ≤ 5μm.
Environmental protection
It uses pulse dust collector to captures dust, uses silencer to reduce noise, so it is environmental protected and clean.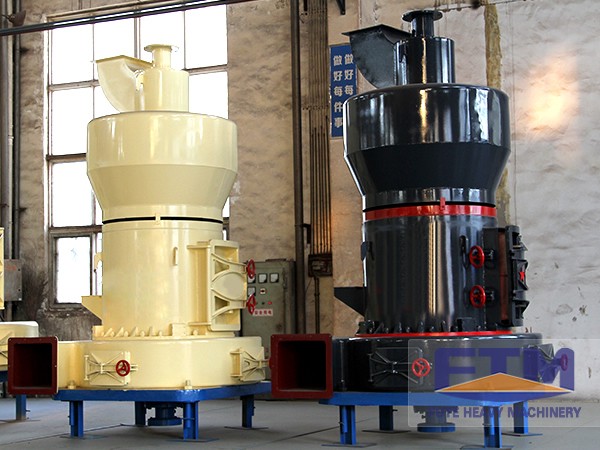 Workshop of powder grinding mill
Powder Grinding Mill Working Principle
Powder material are scattered around the circle periphery under centrifugal force and falls into the grinding ring raceway and shocked, rolled, grinded by the ring roller. It turns into powder through three processes.
The high pressure draught fan sucks the outer air into the engine, and bring the crushed materials into powder concentrator. The rotating impeller makes the rough material re grinded, the standard fine powder come into whirlwind set powder and discharged by the lower discharge valve to become the finished products, while the air flow with small amount of fine dust are discharged through the fan and muffler after cleaning by pulse dust collector.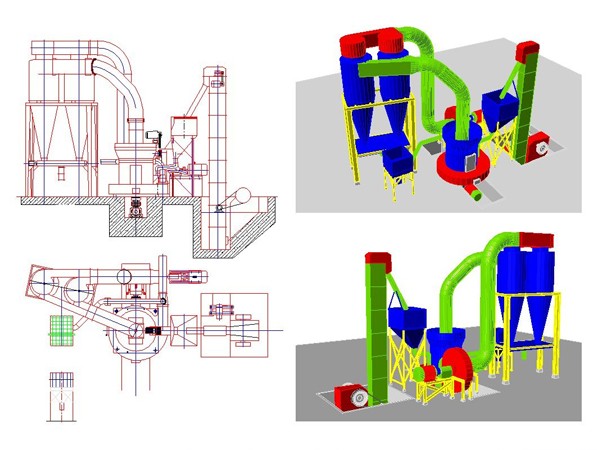 Installation of grinding plant
Parameter
| | | |
| --- | --- | --- |
| Model | 4525 | 4119 |
| Feeding Size(mm) | ≤30 | ≤25 |
| Output Size(mm) | 0.173-0.044 | 0.173-0.044 |
| Shift Output of Different Material Fineness(t) | 16-176 | 8-78 |
| Rotation Speed of Central Shaft(r/min) | 82 | 105 |
| Ring Diameter(mm) | 1770 | 1400 |
| Roller Diameter(mm) | 450 | 410 |
| Roller Height(mm) | 250 | 190 |
| Main Motor | Y315M-4-132 | Y280S-4-75 |
| Fan Motor | Y315M-4-132 | Y280S-4-75 |
| Analyzer Motor | YCT250-4A-18.5 | YCT200-4B-7.5 |